Vietnam cherishes investment from EU
Source Viêt Nam News
Update: October, 18/2018 – 09:00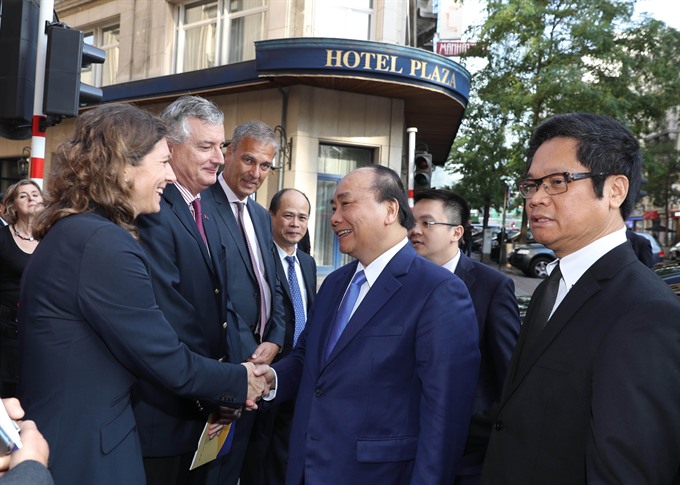 Prime Minister Nguyễn Xuân Phúc meets with European business leaders who participate in the Việt Nam EU-Belgium Business Forum on October 17. — VNA/VNS Photo Thống Nhất
BRUSSELS — The Vietnamese Government is making concerted efforts to improve the business climate for both domestic and foreign enterprises, including those from the Europe, Prime Minister Nguyễn Xuân Phúc said on October 17.
Attending the Việt Nam EU-Belgium Business Forum jointly held by the Việt Nam Chamber of Commerce and Industry (VCCI), the Belgian Vietnamese Alliance, embassies and trade offices of Việt Nam and Belgium, PM Phúc said that the Government pledges favourable conditions to connect enterprises from both sides for the benefits of the firms and the people.
Two-way trade has increased tenfold over nearly a decade, he noted, adding that it is likely to rise to US$53 billion this year. Emphasising the Europe-Việt Nam free trade agreement (EVFTA) which is expected to open the door for the enterprises to capitalise on their cooperation potential when it takes effect, PM Phúc hoped that the European business association, especially Belgian firms, would raise their voices to push the signing of the deal.
Việt Nam will serve as a bridge for European enterprises to break into ASEAN market toward a free and fair trade, he said, underlining Việt Nam's advantages for Belgian investments like stable socio-political and macro-economic conditions and well-developed port systems.
Together with the imminent signing of the EVFTA, Việt Nam has participated in 15 new-generation free trade agreements, which means that if Belgian firms enter Việt Nam, they will have access to a global market, he underlined. At the forum, PM Phúc and officials of both nations witnessed the signing of several cooperation documents between the VCCI and the Belgian Vietnamese Alliance, Việt Nam Post and Telecommunication Group and European mobile network business centre, and Việt Nam Project company and Sarens Group.
Speaking at the event, Chairman of the Belgium – Việt Nam Friendship Alliance Andries Gryffoy said Belgian firms are interested in seeking opportunities in health care, real estate, green energy, food, beverages, seaport infrastructure and other fields in Việt Nam, adding that they are promising investors. He said Belgium boasts a business-friendly government, dynamic research environment, and education system up to international standards and high labour productivity.
Lying in the heart of the EU with a population of 420 million and modern infrastructure, Belgium focuses on industries such as aerospace, chemicals, energy, waste and wastewater treatment, artificial intelligence and 4.0 technology, which are potential fields for partnership with Vietnamese firms, he said.
The same day, PM Phúc had working sessions with representatives from EU and Belgian leading firms operating in Việt Nam, during which they informed the Vietnamese leader on outcomes and investment and business plans in the Southeast Asian nation in such fields as oil and gas, renewable energy, agriculture, fertiliser and insecticide production, seaport infrastructure, rubber and tire production. They also made recommendations on how to accelerate cooperation between the business communities of Việt Nam and the EU, as well as between those of Việt Nam and Belgium in particular.
On October 16, Prime Minister Nguyễn Xuân Phúc received leaders of Solveigh and Nijhuis – the Dutch businesses with experience in anti-erosion, water exploitation and use, and carrying out a climate change adaptation project in central Việt Nam.
The PM hailed Solveigh and Nijhuis as well as other Dutch partners in conducting surveys, research and working solutions to minimise coastal erosion in Việt Nam. He described their work as a specific action to implement cooperation programmes within the framework of the strategic partnership on adaptation to climate change and water management between Việt Nam and the Netherlands.
Menno Holterman, managing director of Nijhuis, said the project's partners inspected erosion in Hội An and agreed to carry out another project to address challenges in the area. It aims to improve safety and livelihood for locals, and protect and restore Hội An's coast, while forming new eco-system tourist sites there. Investment for this will be arranged by European and Dutch organisations and businesses and Việt Nam's T&T group.
Representatives of the two Dutch groups expressed their wish to continue receiving attention and facilitation from the Prime Minister and relevant agencies of Việt Nam during the project's implementation.
Welcoming proposals from Dutch organisations and businesses, PM Phúc said the Vietnamese Government hopes for experience-sharing and support on human resources and technology from the Dutch partners to solve urgent issues in Việt Nam, especially coastal and riverbank erosion and subsidence, climate change response, and helping local people's sustainable socio-economic development.
The PM suggested Dutch and Vietnamese partners coordinate with the People's Committee of Quảng Nam Province to accelerate the study and survey to have an optimal plan.
The two Dutch groups, T&T group and other partners were asked to work with Việt Nam's Ministry of Agriculture and Rural Development and Quảng Nam authorities to reach an implementation plan. — VNS